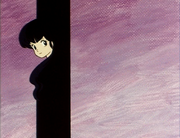 "Ashita Hareru ka" (あした晴れるか), literally meaning Will Tomorrow Be Brighter?, is the first ending theme of the Maison Ikkoku anime series, performed by Takao Kisugi. It was replaced by "Cinema", by Picasso from episode 15.

どうしてあなたは
涼しげで居られる
ぶれるほど近く
唇胸もと
こんなにも僕を危険にさせとく

愛してもいいはず
それでも時が熟さない
急き立てる心に追いつかなくて
現実はままなれない

自然に抱き寄せ人並みの街角
車のブレーキ後ろで響いて
条件反射で二人は横向く

たまらなく恋なら
チャンスは今だ訪れず
たまらなく愚かな
男になって生きそうで
ままならない

危ういベールを季節に重ねて
あなたは日毎に女になってく

たまらなく恋なら
明日晴れるか晴れないか
少しでも恋なら
夢は見れるか見れないか
風に聞くよ

愛してもいいはず
明日晴れるか晴れないか
たまらなく恋なら
月包んでく心なら
風が知ってる
Doushite anata wa
suzushige de irareru
bureru hodo chikaku
kuchibiru mune mo to
konna nimo boku o kiken ni sase toku

Aishite mo ii hazu
sore demo toki ga jukusanai
sekitateru kokoro ni oitsukanakute
genjitsu wa mama narenai

Shizen ni dakiyose hito nami no machikado
kuruma no BUREEKI ushiro de hibiite
jouken hansha de futari wa yokomuku

Tamaranaku koi nara
CHANSU wa ima da otozurezu
tamaranaku orokana
otoko ni natte iki sou de
mama naranai

Ayaui BEERU o kisetsu ni kasanete
anata wa higoto ni onna ni natteku

Tamaranaku koi nara
ashita hareruka harenai ka
sukoshi demo koi nara
yume wa mireru ka mirenai ka
kaze ni kiku yo

Aishite mo ii wazu
ashita hareruka harenai ka
tamara naku koi nara
tsuki tsutsundeku kokoro nara
kaze ga shitteru
Why is it that you're so placid?
Oh, how is it that you stay so cool?
Just when you stand so close to me, your lips so near, your bosom too;
And just like this, you tempt my heart, so dangerous... am I a fool?

I wish I could love... so suddenly;
But the time has not yet come, there's no room for me.
My heart runs away... impatiently;
Oh, it's trying to deny... the reality.
I can't just chase it now.

We met among crowds of people.
And then we embraced naturally.
But then a car came speeding by, with screeching brakes, past you and me.
and just like that, we're both surprised, and we forgot... our ecstasy.

Is this what love is? Unbearable?
Oh when will my ship come in? Will I ever know?
I can't take much more of all this woe;
I grow foolish by the day; I can't stop, and though...
I can't go on like so.

Is that a veil you're wearing now, it's dangerous for me to see?
And every day, it's you I see, you're turning more... woman to me.

Is this what love is? Unbearable?
Will tomorrow be sunny? Will it not be so?
Will there be a bit of love for me?
Oh, will I be in your dreams? Or will you not see?
Maybe I'll ask the wind

When I love you so, don't tell me no...
Will tomorrow be sunny? Will it not be so?
Is this what love is? Unbearable?
Am I getting close to you? To your heart and soul?
Only the wind will know...